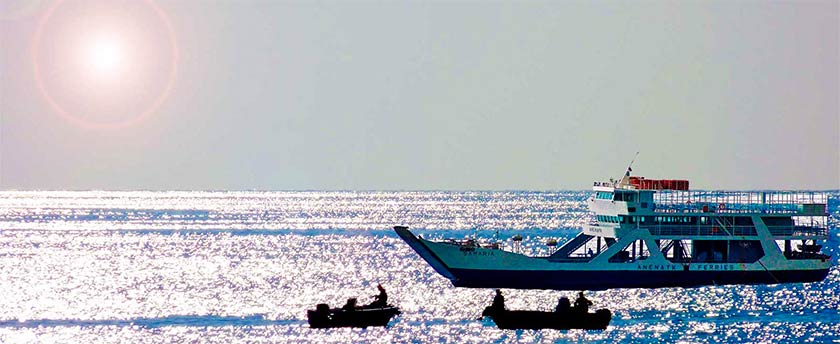 About Sfakia

For the best introduction to the Sfakia region in southwest Crete: please watch this stunning video:
Official video of the Region of Sfakia, southwest Crete from the Municipality of Sfakia.
Chora Sfakion village
The small capital Chora Sfakion, also called Sfakia, has 400 inhabitants, and offers a small harbour where the ferries to other villages, and to Samaria gorge, dock. Many villagers live as shepherd, or fisherman, or they grow olives.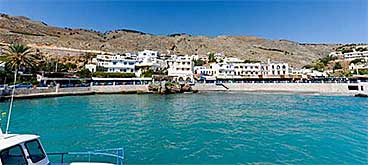 The village has a quiet atmosphere, and offers several shops and restaurants with great food and excellent wines. There is an ATM, and Wifi wireless internet access is available at the hotel.
Several natural beaches surround the village, that all can be reached by foot, or boat. Some of them are naturist beaches. The area in the southwest of Crete, with its mountain paths and gorges, is a great opportunity for walkers and mountain hikers. Public transport is available by local bus or ferry. Boat trips and diving courses are on offer. There are no discos or night clubs.
Chora Sfakion offers several good quality restaurants and tavernas all over the village, and many come with direct sea view. They offer freshly prepared dishes, ranging from local dishes to European cuisine. Try the fresh fish, lobster, sea fruits, smoked pork, or lamb. You can make an ample choice out of colourful salads, and also vergetarian dishes. Each restaurant offers a large selection of red and white wines, of which the biological wines excell. All restaurants are family owned, and their hospitality makes a great meal complete. The restaurants open in early morning for breakfast, and stay open until shortly before midnight. After dinner you can enjoy the rest of the evening in the good company of the local people and other guests, in a very relaxing atmosphere.
You find several shops in the village: a bakery, butcher, 2 small supermarkets, of which one also sells fresh vegetables, tourist shops with newspapers and books, a post office, and a ATM, from which you can obtain cash money, using your credit card or regular bank card from home. You will need your PIN code!
Local transport is available by public bus, and ferry boat. The buses have their station at the village square, the ferries dock at the pier in the new harbour. Tickets can be obtained at the booth on the ferry pier. From our hotel you will see the ferries coming in right in front of you.
Sfakia, Southwest Crete - Greece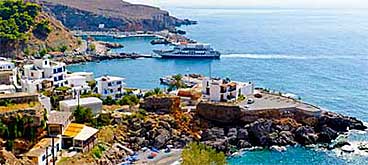 The Sfakia region has about 2,500 inhabitants, and is famous for its history of resistance against invaders, impressive nature, very hospitable people, splendid weather, quiet beaches with crystal clear sea water, good food and wine, and its marvellous opportunities to walk along the coast, hike in the mountains, and go through several of the gorges that cross the mountains. The famous Samaria gorge lies in Sfakia. The area is quiet, being without an ongoing coastal road. Transport here is by ferry boats. Sfakia, in the southwest of Crete, is Europe's southernmost point.
Sfakia, "Land of the Gorges", is part of Chania province, and for Crete is quite unique as an area that is still untouched by mass tourism. It mainly consists of mountains up to 2453 metres high, fertile plains, and small villages, along the coast and in the mountains, in traditional Cretan style.

All information on the region of Sfakia, and Crete in general, can be found on Sfakia-Crete.com